Want to be notified of our next litter?
Call or text: (423) 799-4230
or email: office@tnbengals.com
---
Some of the kittens: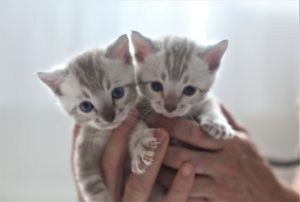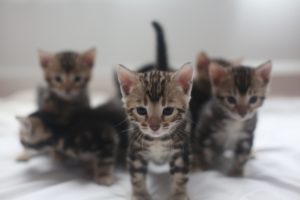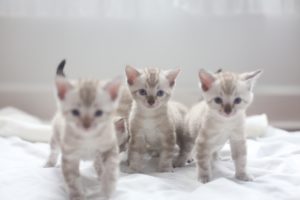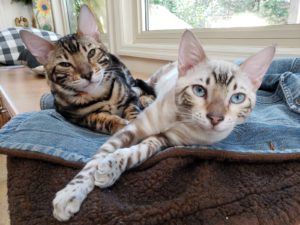 ---
Meet our Cats:
Our Sire – Leo:
Leo is our sweet male cat.  He is a very social animal who likes to be with people and other cats.  He is long and sleek with a thick neck and large head. He has a beautiful seal mink coat that is super soft and silky.  He is creamy in color with very dark chocolate brown markings.  He has very blue eyes.
Our Dam – Zara:
Zara is our beautiful explorer.  She loves to climb and can be found in the highest places possible.  She is very inquisitive and if there is anything moved in the house or new, she is first to inspect.    She is a super soft creamy white Bengal with beautiful dark stripes.  Her eyes are huge and intensely blue.  She likes people and comes by for attention often.
Our Dam – Malika:
Malika is our constant companion.  She follows us around the house like a shadow, often vocalizing her opinions.  She is very sweet tempered and likes to be stroked any time.  She is a Brown (Black) marbled tabby Bengal.